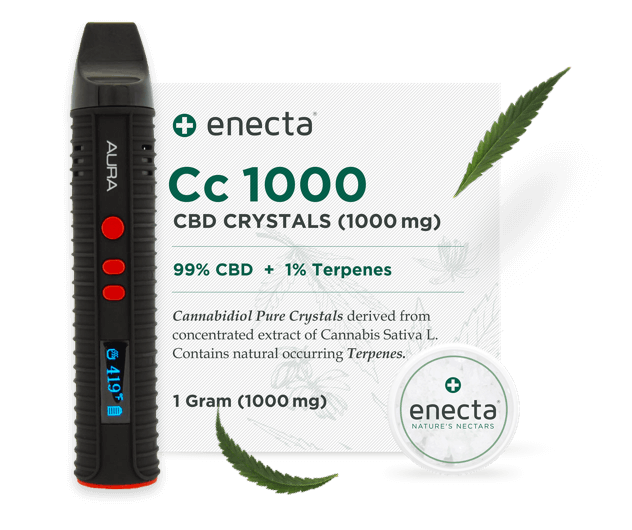 Vaping & CBD (Vapes)
CBD is here to stay, so cannabis products and their spin-offs like refill vape liquids (CBD e-liquids) couldn't be left out of the game!
The same goes for pure terpenes e-liquids and crystals (CBD & CBG). And cannabis flowers for vaping or smoking. Products solely grown from Cannabis Sativa L organic crops with 3-way tests of pureness and (GMP certification).
The most well-known and effective way to enjoy CBD (cannabidiol) is vaping with special heating vaporizers for cannabis (CBD vaporizers). In our e-shop, you can find only the best-sellers of the kind (vapes), from top brands in the lowest prices of the Greek market.
'Flowermate' V5.0S Pro Vaporizer

€

138.00

Flowermate AURA vaporizer

€

80.00

BLACKBERRY KUSH TERPENES 1ml

€

18.15

Boundless CFX Vaporizer

€

156.45

Enecta Cc1000 CBD Crystals – 1000mg

€

73.95

Enecta Cc500 CBD Crystals – 500mg

€

39.99

Dynavap VapCap M – 2020

€

80.00

CRAFTY+ Vaporizer | Storz & Bickel

€

290.00

DaVinci Miqro Vaporizer

€

144.00

DaVinci IQ2 Vaporizer

€

244.00
Subscribe to our Newsletter to receive unique offers and news!
WELCOME TO
The content of this website is intended for adults only. If you are over 18 years old please confirm.
You have to be over 18 years old in order to use this website
COOKIES POLICY
Our site uses cookies so that we can provide you with better services. By continuing browsing, you agree to the
Terms of Use
.